Meet the Doctor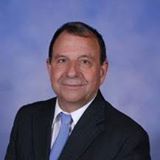 "My education is the foundation for my practice, but a degree is just the beginning. Experience is essential, too. My over 35 years of experience has taught me so much that just isn't in textbooks. Both my education and experience give me the knowledge to provide the quality of care that your family deserves."
Dr. Hewlett believes patients come first, above all else. That's why he spends as much time with you as possible, listening to your concerns. He will always treat you with care and respect, so you'll return to keep your smile healthy for a lifetime.
Dr. Hewlett has been active in the community since he moved here in 1978. He enjoys being a part of Lake County; over the years his patients have come to know him as a neighbor and friend. He is proud to give back to the community that has been so good to him and his family.
Dr. Hewlett has a strong educational background which includes:
Doctor of Dentistry: Ohio State University Dental School
Bachelor of Science: Ohio State University
U.S. Navy: Six years, Rank-Commander, one year fellowship in endodontics.
Member of: American Dental Association, California Dental Association, Redwood Empire Dental Society.
With more than 60 hours of continuing education every year, concentration in root canal therapy, cosmetic dentistry, crown, and bridge techniques, Dr. Hewlett can provide the best care for you. Dr. Hewlett researches and educates himself in the always growing advancements in dentistry.
Dr. Hewlett was the First Mayor of Clearlake, Past President of Chamber of Commerce, Past President for Konocti Unified School Board, has been active in Boy Scouts of America Troop 44 and a part of many other activities around Lake County.
3560 Old Hwy 53
Clearlake, CA 95422
(707) 994-7271